Restaurants & Bars
World-class meals await Iberostar Grand Rose Hall diners. The finest Montego Bay restaurant and bar options are on the grounds of the beautiful Iberostar Grand Rose Hall—including 5 specialty restaurant options, 2 buffets, and 6 bars. In the mood for something quick and casual? Have a bite near the pool. Hungry travelers can experience a diverse array of all the Jamaican fare Montego Bay has to offer. Find yourself on a gastronomic getaway with fine dining options from Japan, Italy, and the Mediterranean. Buffets and a la carte options are also available. The Iberostar Grand Rose Hall has fine dining and casual options to suit the mood and palate of every guest, at every meal. It's always cocktail hour at the bars of Iberostar Grand Rose Hall. Enjoy drinks poolside, in the theatre, and in the hotel lobby. Feel like a cozier nightcap? It's always possible to take drinks back to the room. Guests will find whatever they please among the Montego Bay restaurant options at the Grand Rose Hall.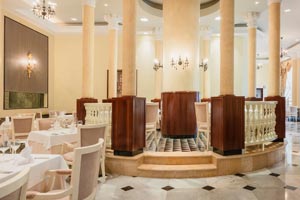 Es Palau
Gourmet Restaurant
A la carte never looked—or tasted—this good. Enjoy gourmet cuisines from around the world, right in Montego Bay. There's something foGourmet restaurant serving à la carte French haute cuisine. Duck magret, crab tartar and French meringue are some of the options available on the menu. r every eater—from adventurers to choosy diners.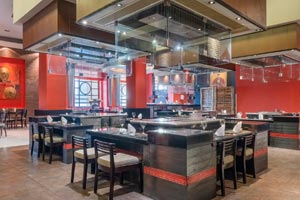 Teppanyaki Kiniro
Japanese Cuisine
This a la carte surf-and-turf features a homey, wholesome quality everyone can enjoy in a classic American steak house setting. Sample choice meats, fresh fish, and bright, colorful veggie dishes. Start off with one of several tempting starter courses.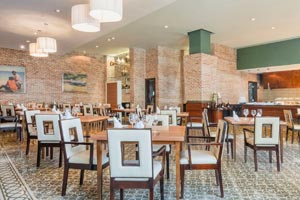 Surf and Turf Galleon
Grill
Enjoy a selection of charcoal-grilled meats with a wide array of sauces and sides to choose from, in addition to seafood and classic American desserts.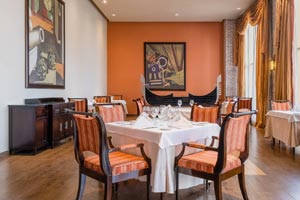 La Toscana Wine Cellar
Italian Cuisine
Enjoy the best wine pairing with à la carte Italian specialties, including starters like pane carasau with marinated bluefish, bisques, and soups such as cream of tomato soup, hearty dishes like spaghetti vongole and beef lasagna, and specialty desserts like limoncello cream and tartufo.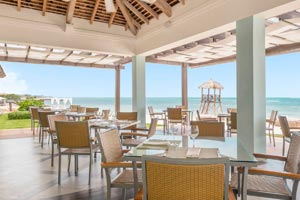 Port Maria
Local Jamaican Cusine
Buffet breakfast and lunchtime snacks with ocean views. Island-style à la carte dinner with Jamaican specialties such as red beans, jerk barbecue, and coconut shrimp.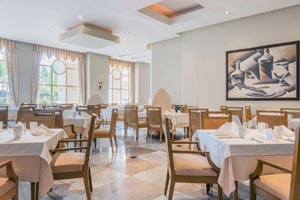 Cornwall Buffet
Main restaurant
Buffet of international cuisine with show cooking. Options include pasta, meat and fish dishes, vegetables and salads for lunch and dinner, and fruit, jams, nuts and a wide variety of breads and cold cuts for breakfast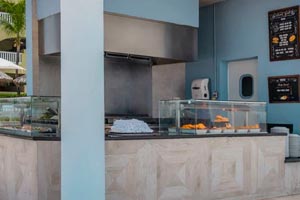 Beach Grill
Snack Bar
Located on the beachfront, this is the perfect place for hamburgers and hot dogs fans. We also have a salad and pasta bar.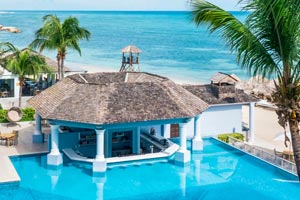 Lucea
Pool Bar
Enjoy the experience of sipping delicious Caribbean cocktails without leaving the water at the bar inside the pool, or while you're sunbathing in the sun loungers.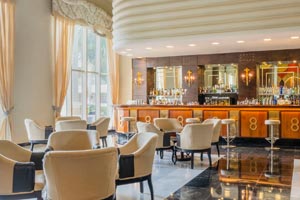 Aqua
Lobby BAr
Located in the hotel lobby, this bar is open 24 hours per day. It serves a variety of drinks, from fresh juice and coffee to teas and exquisite cocktails, so you're sure to find a drink for any hour of the day.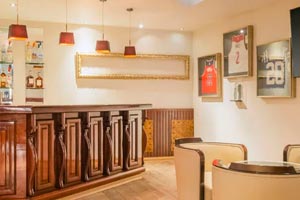 Hemmingway
Sports bar
So that you can enjoy your favorite sport during your vacation, the screens at this bar show the most popular competitions. Open during the afternoon and until after midnight, you can enjoy the match with one of the many options from the drinks menu.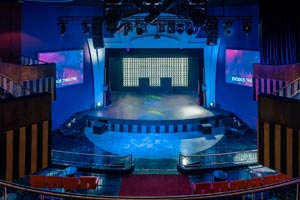 Exodus Theater Bar
Show Bar
Located in front of the hotel's stage, you can enjoy daily live music, dance and magic shows with a beverage, cocktail and more from the varied menu.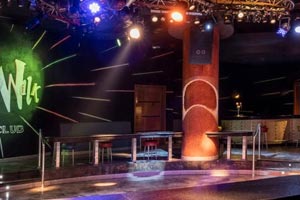 Mango Walk Nighclub
Show Bar
The nightclub awaits those who never want the night to end with music, cocktails and fun until sunrise.